---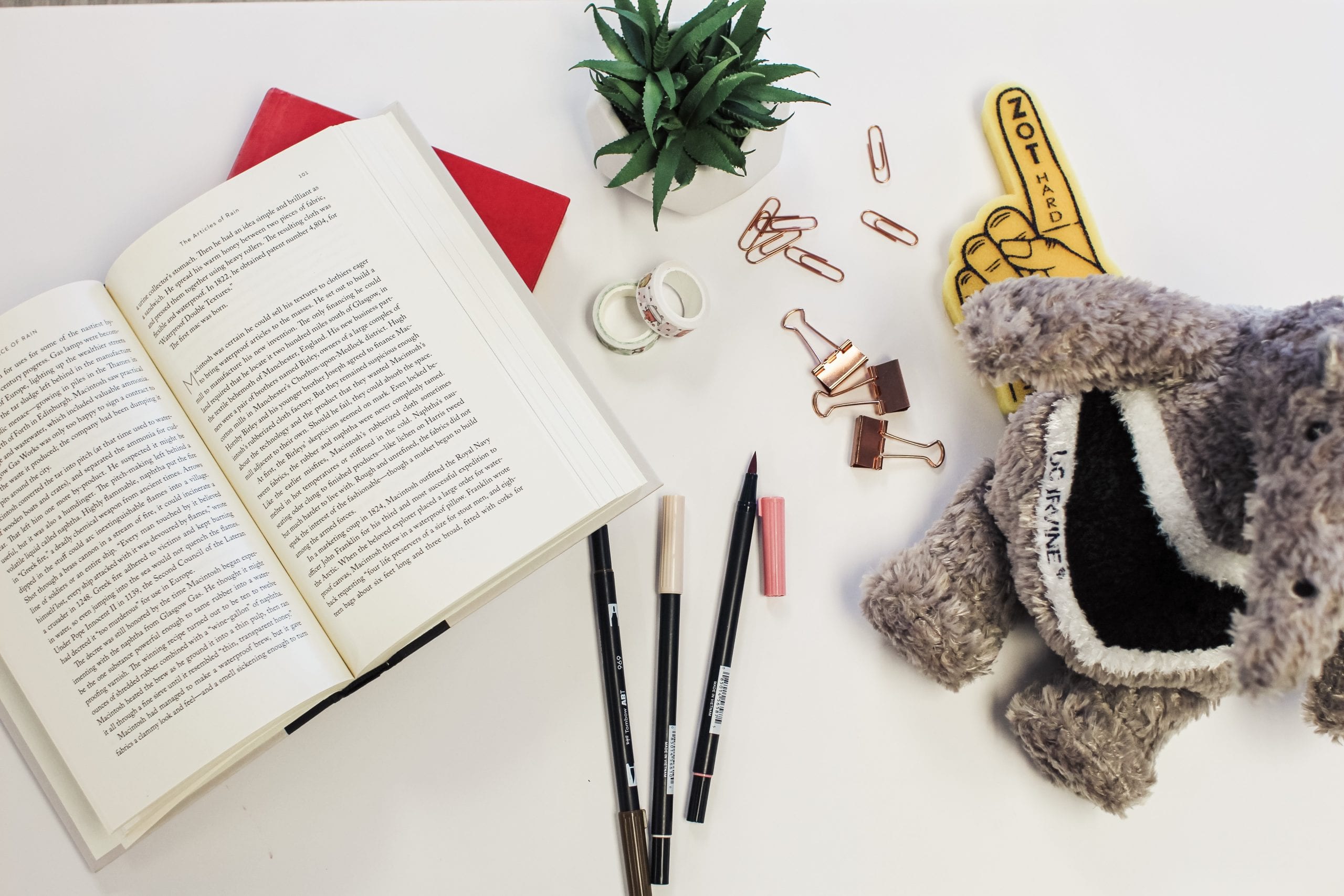 UC Immigrant Legal Services
The UC Immigrant Legal Services Center provides free immigration-related legal services to students, as well as their immediate family members (spouse, siblings, children, and parents). The following link is directly associated with the UC Immigrant Legal Services Center.: https://law.ucdavis.edu/ucimm/
The UCI DREAM Center does not maintain or manage the information submitted to UC Immigrant Legal Services Center.
Welcome to our NEW Staff Attorney, Elda Rosales!
We are very excited to welcome the new staff attorney Elda Rosales for the UC Immigrant Legal Services Center! We encourage you to stop by the RISE Suite and meet Elda!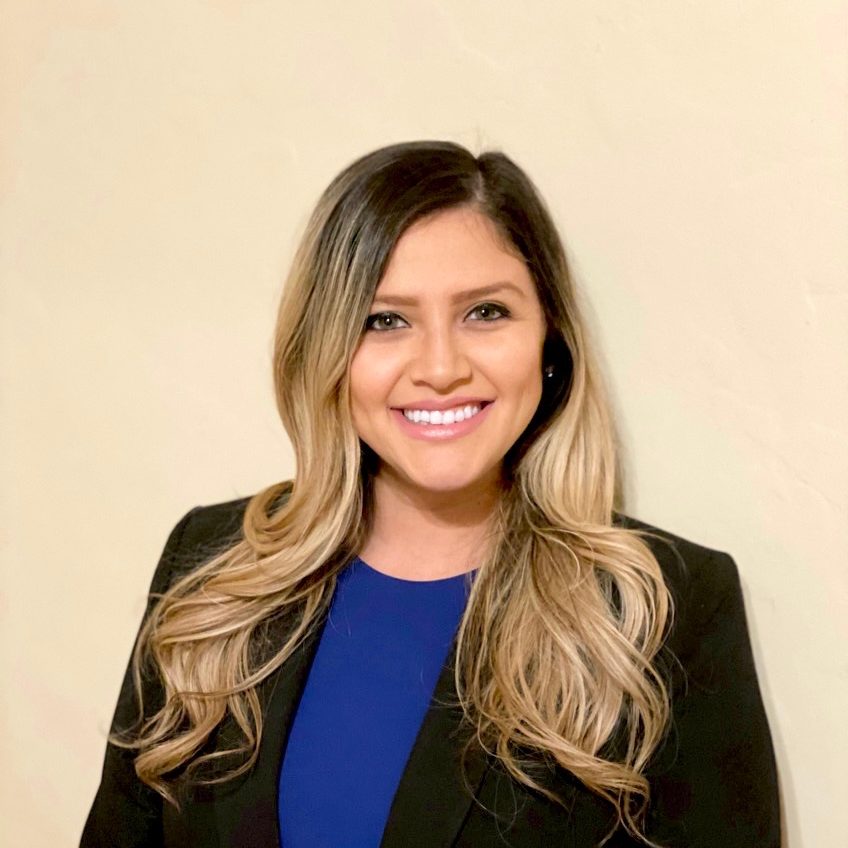 Elda S. Rosales is the new Staff Attorney for the UC Immigrant Legal Services at UC Irvine. Elda is an Anteater (class of '14) and received a Bachelor's in Political Science and a minor in Women's Studies. She graduated Law School from the University of La Verne, College of Law in 2019 and was on the University's Law Review. Elda's passion from Immigration Law is fueled by her own experiences growing up in a mixed status family. Prior to joining UC Immigrant Legal Series, Elda served as a Staff Attorney at the Central American Resource Center (CARECEN) providing free immigration services to students within the California Sate University system and Community College. On her free time Elda enjoys cooking, spending time with family and walks with her boxer,, Arya.
Contact Staff Attorney, Elda Rosales:
Legal Services Appoinments
To book an appointment click here!
For clarification on these services or to obtain emergency legal assistance, contact Elda S. Rosales at elda.ucimm@law.ucdavis.edu or by cellphone at 530-400-2062.
Our campus attorney can be readily available in the event of a legal emergency, such as detention and deportation. Please feel free to contact our attorney at any time.
UPDATE: 5th Circuit DACA Decision 10/05/22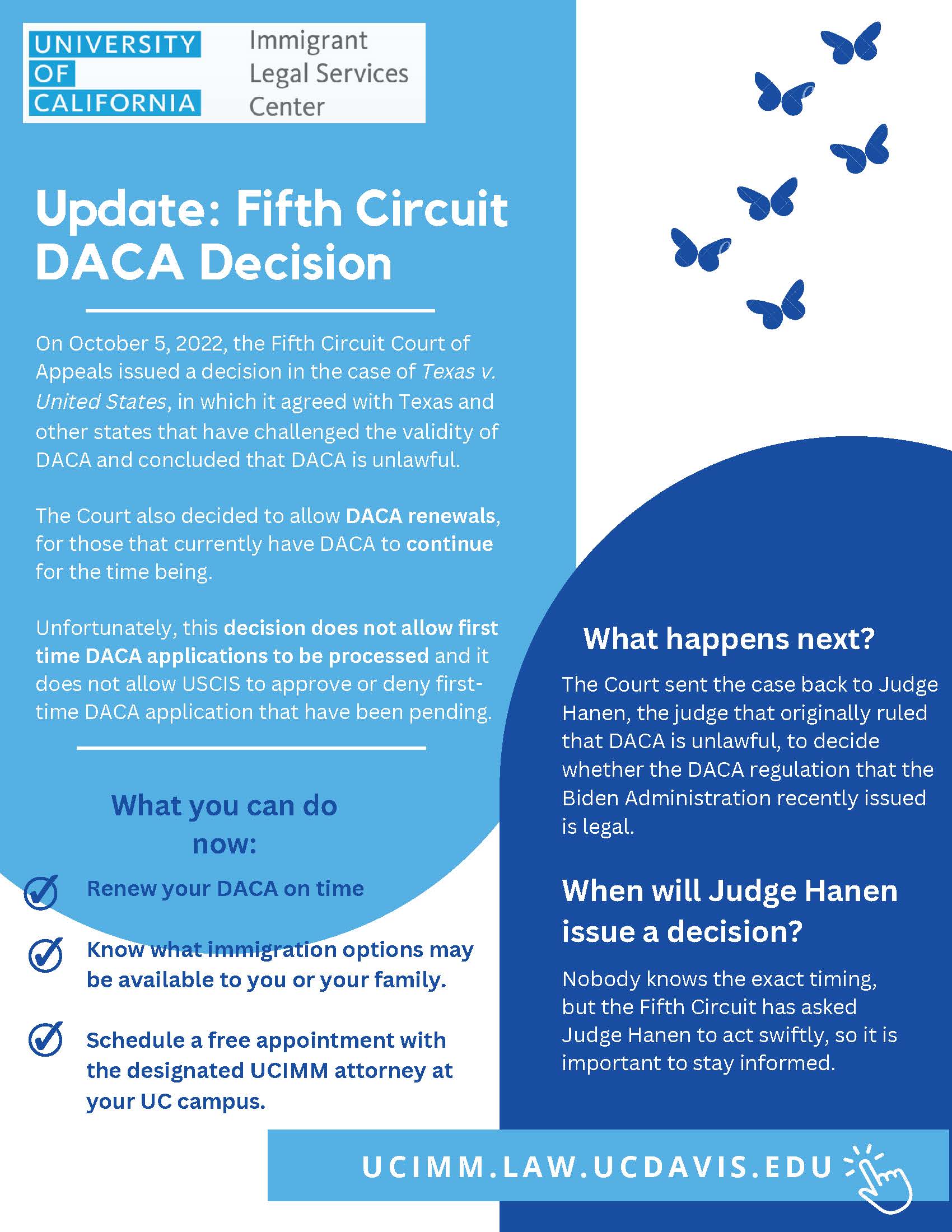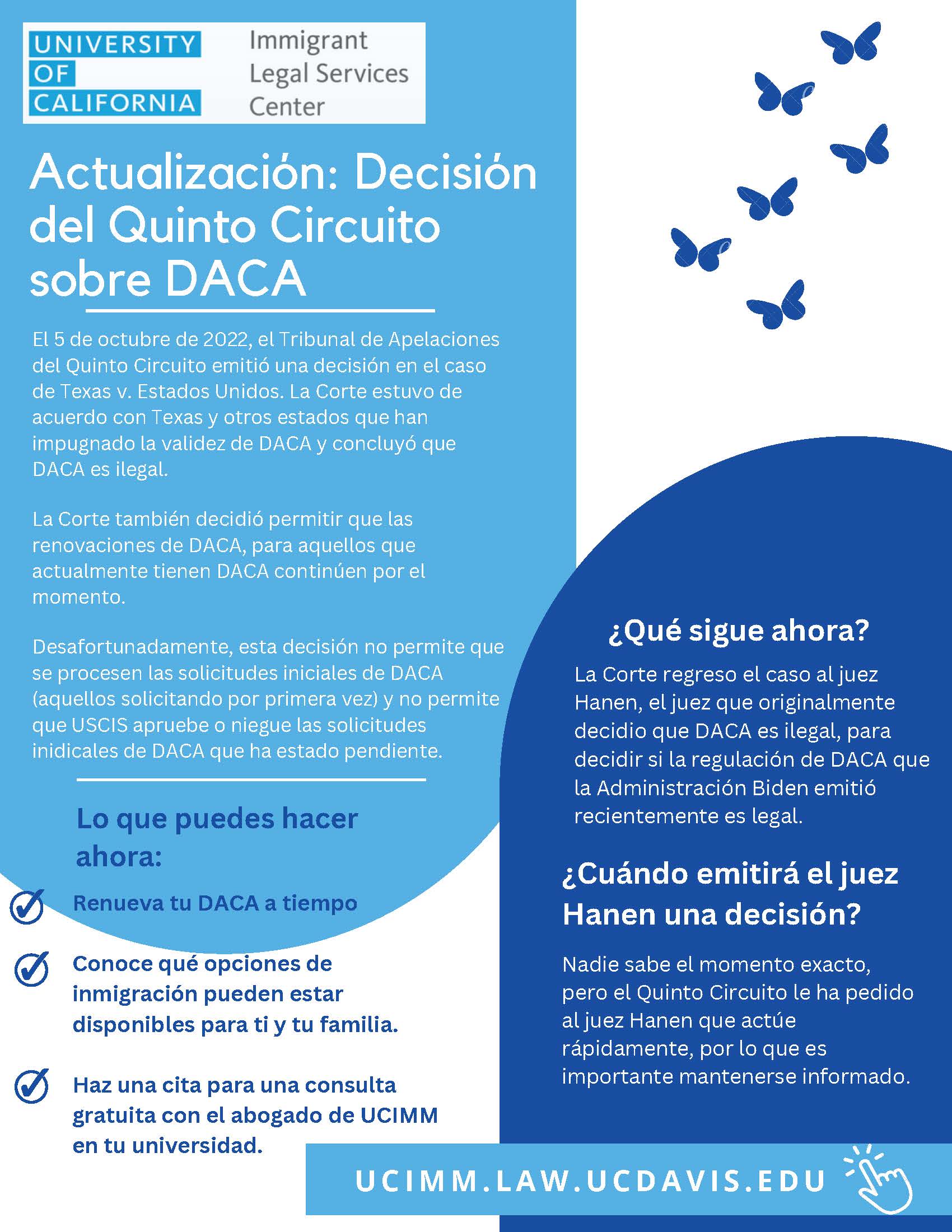 Book an appointment here!
For questions and more info contact our staff attorney, Elda S. Rosales at elda.ucimm@law.ucdavis.edu or by cellphone at 530-400-2062.
COVID-19 DACA Renewals Information
The UC Immigrant Legal Services Center is still available to schedule appointments using the online appointment link. Students can connect via phone or Zoom. If you email or sign up via the DACA follow-up appointment link, you can set up a call to do the initial (renewal) DACA paperwork and request checks where necessary and so long as there are still funds available.
For any DACA renewal or other application, we will likely need to coordinate to collect filing fees and signature pages remotely, either via FedEx or mail. Please keep in mind that most immigration petitions cannot be sent without the documents signed in pen (although we can submit scanned pictures of signatures). This includes DACA renewals.
If you have a pending case with USCIS and may be waiting for an interview appointment or biometrics notice and are feeling ill, USCIS has currently implemented a flexible rescheduling policy. Folks may call USCIS at 1 (800) 375-5283 to reschedule their appointment with no penalty. If you have more questions regarding rescheduling, please see the USCIS info page regarding Covid-19 and reach out to Lucero if you have any questions.
USCIS offices and courts are also closing or limiting their services during this time. This may result in delays for your case processing or appointment scheduling. For folks who have cases with the UC Immigrant Legal Services Center, they will keep you posted if they receive any specific notices about your case.
Remote Access to Legal Services
The UC Immigrant Legal Services Center's physical offices at the ACRC have moved to the 4th Floor of the Student Center (RISE Suites). While the pandemic continues there will be a hybrid schedule for the attorney and fellows. Please reach out with questions if in-person services are needed.
COVID-19 Medical Care Information
Some in our community may be wondering if accessing medical care or treatment for the coronavirus may affect an immigration petition under Public Charge rules. The US government recently issued guidance indicating that treatment for coronavirus should not be considered for public charge purposes. We encourage folks to reach out to their doctor or health officials for assistance for coronavirus treatment. For more information on Public Charge, please see our attached FAQs flyer and detailed website from Keep Your Benefits.
Please also see the Centers for Disease Control & California Department of Public Health webpages for updates and resources regarding the coronavirus. Please also check your county website for local updates.