---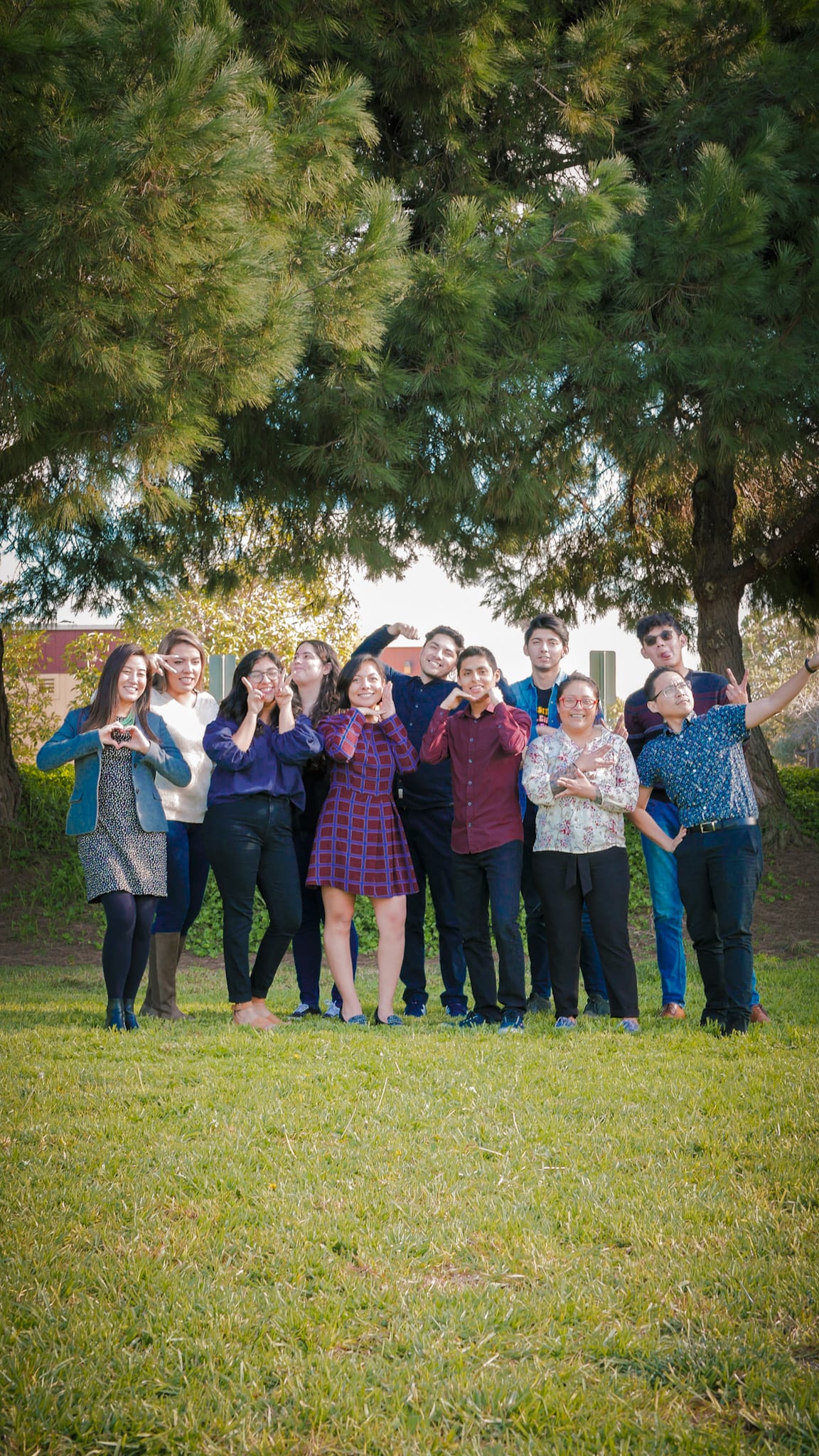 Meet the DREAM Center Staff
Ji Young Baek
4th year, Biological Science Major
Bucket List: Ride a hot air balloon over sunset
Favorite Holiday: My favorite holiday is Christmas because it's a holiday where the "holiday feel" lasts the longest, and it reminds me of joy and warmth.
Carlos Zepeda
4th year, Criminology, Law, and Society & Political Science Double Major
Bucket List: Skydiving
Favorite Holiday: Thanksgiving because is usually a three day weekend
Nydia N. Mora
2nd year, Political Science and Sociology double major
Bucket List: Visit Salem, Massachusetts, and move to Italy spontaneously
Favorite Holiday: Halloween! I love October and I love Halloween movies, along with decorations and the history behind it. I think it's a great time, and the weather, to have fun!
Aura Navarro
3rd Year Criminology Law and Society Major
Bucket List: Learn how to play the guitar
Favorite Holiday: My favorite holiday is Christmas. This holiday makes me feel very thankful and very happy. This is where my whole family gathers, we eat, we laugh, and we open presents. It is truly the most beautiful time of the year.
High School & Community Outreach
Gabriel Enciso
4th year, Mechanical Engineering Major
Bucket List: Skydive and go to Japan
Favorite Holiday: My favorite holiday is Christmas because its the coziest of all the holidays.
Carlos
Benigno Mendieta
4th year, English Major
Bucket List: See the aurora borealis and another thing would be to see glacier cave in person
Favorite Holiday: My favorite holiday is Thanksgiving because I am able to converse and eat with my family.
Mariah Rosario
3rd year, Art Major, Digital Arts Minor
Bucket List: Adopt my own a dog and see the Northern Lights someday
Favorite Holiday: My favorite holiday is Christmas because it's so festive and it brings your family altogether in a cozy atmosphere.
Johanna Mejia
1st year, Psychology Major
Bucket List: Visit the stadium of my favorite soccer team in Spain and travel to tropical islands.
Favorite Holiday: My favorite holiday is Christmas because we celebrate the birth of Jesus and exchange presents with my family. I love the decorations and the joyful atmosphere.
Maria Calderon
2nd year, Undeclared (interested in Nursing)
Bucket List: skydiving and roaming around a city at night in a helicopter
Favorite Holiday: My favorite holiday is Christmas because I love the happiness that is spread throughout that day. Also because I like gifting and when people open up their gifts.
Hannia Aguiar
2nd year, Undeclared
Bucket List: Go parasailing and travel to Europe
Favorite Holiday: My favorite holiday is Christmas because the whole family gets together, and the weather just fits perfectly with the holiday.
Marco Ortiz Sanchez
4th year, Business Administration Major- Emphasis in Finance, Digital Information Systems Minor 
Bucket List: Go skydiving
Favorite Holiday: My favorite holiday is Thanksgiving because of all the food and then Black Friday.
Scholars in Residence: Graduate Mentors
Joseph Christian Labagnao Ligunas
3rd year, Comparative Literature (main research area would be Philippine Literature and Film)
Bucket List: Living my truth, so: Meet Mariah Carey and open a bed and breakfast inn.
Favorite Holiday: Thanksgiving, definitely, because it's (1) an excuse for having tons of delicious food, (2) a reason to cook with my mom and sister, and (3) a way to listen to cheesy/sappy Christmas music without being judged too much.
Hi! As a UCI Dream Center student mentor, I am dedicated to assisting you towards success in your academic and professional endeavors. I'm available to provide and discuss information about graduate school as an undocumented student. I'm also more than happy to talk through post-graduation planning. Additionally, I'm available to assist, look over, and proofread applications (grad school, job/internship, scholarships), resume/CV, and even writing assignments in class. Of course, I'm free to also just chat.
The best way to reach me is by email: jligunas@uci.edu.
To book an appointment:jligunas.youcanbook.me.
Looking forward! 🙂
L. Diana Carreño
3rd year Pharmaceutical Sciences Ph.D. Student
Bucket List: I would love to complete a 100-mile trail running race.
Favorite Holiday: Thanksgiving is my favorite holiday because I get to spend time with my familia.
Barbara Martinez Neda
2nd year Computer Science Ph.D. Student
Bucket List:

Visit every Disney Park! Go skiing for the first time!
Favorite Holiday: Christmas! I love spending time with my family and eating all the holiday food we make, like tamales, turkey, and ham.
Hello everyone! Please feel free to reach out to us if you have any questions regarding grad school, applications, essays, resumes, or CVs. I am also happy to help with any questions regarding Engineering or Computer Science coursework, research, or future plans.
We will set up office hours for the quarter. Feel free to book an appointment with one of us so we can answer your questions and offer any advice and guidance.
Angela Chuan-Ru Chen, Ph.D.
Director
angelacc@uci.edu | (949) 824-6390
Having been undocumented herself for 16 years, her experiences as an undocumented student throughout her undergraduate career has been an influence for her passion to support the undocumented student community. Angela most recently worked as the Director of the Undocumented Student Program at UCLA which served over 500 undocumented students, launched new programming, and built resources across campus departments to better serve undocumented students.
Additionally, Angela's institutional advocacy includes leading University of California system-wide efforts to increase awareness about policies that impact undocumented students and guiding universities across the nation to develop support programs for undocumented youth. Moreover, Angela also completed academic training in UCLA's Graduate School of Education.
Yadira K. Hernandez
Assistant Director
Yadira is a native of Puebla, Mexico. Since she immigrated to the U.S. at the age of 15, she has advocated for undocumented immigrant rights in higher education and the community. She has managed and organized anti-deportation campaigns supporting families impacted by incarceration and deportation in Nevada and California. Previous to her current appointment, Yadira worked as the Undocumented Student Program Coordinator at UCLA, where she supported undocumented students and their families. To extend the support to undocumented individuals after graduation, she founded the first of its kind, Undocumented Alumni Association of UCLA, where she advocates and provides professional and career opportunities to undocumented alumni. She aspires to become an immigration lawyer to combat racial inequality and offer legal services to the immigrant community who are unable to afford an attorney. She is excited to work at the UCI family and support the undocumented student community and their families.
Alejandra (Allie) Jeronimo
Program Coordinator
Alejandra (Allie) Jeronimo graduated from UCI in 2020 with a B.A. in Anthropology and a B.A. in Criminology. She is a proud Anteater and is excited to be back at UCI. During her time at UCI, she was involved with the undocumented student organization, Students Advocating For Immigrant Rights and Equity (SAFIRE), where she supported and advocated for fellow undocumented students through events and programs hosted by the organization. She has also been involved with the Student Alumni Association and served as Vice President of Membership during her last year at UCI. Alejandra is excited to continue supporting the undocumented student community and their families.
Laura Enriquez, Ph.D.
Faculty in Residence
Dr. Laura E. Enriquez holds a Ph.D. in Sociology from the University of California, Los Angeles. She earned her undergraduate degree in Sociology and History from Pomona College. During her time there she began working closely with undocumented immigrant students. Building on this work, she has researched, presented, and published on a range of issues related to the educational, economic, political, and social experiences of undocumented young adults who immigrated to the United States as children. She has published multiple articles on the complex role that immigration status plays in the everyday lives of undocumented young adults.  Currently she is working on a book manuscript tentatively titled, Of Love and Papers: Forming Families in the Shadows of Immigration Policy. 
She is faculty chair of UCI's Committee for Equity and Inclusion of Undocumented Students and currently serves as the faculty advisor for UCI's Marco A. Firebaugh House, an on-campus housing community for undocumented students and allies.