---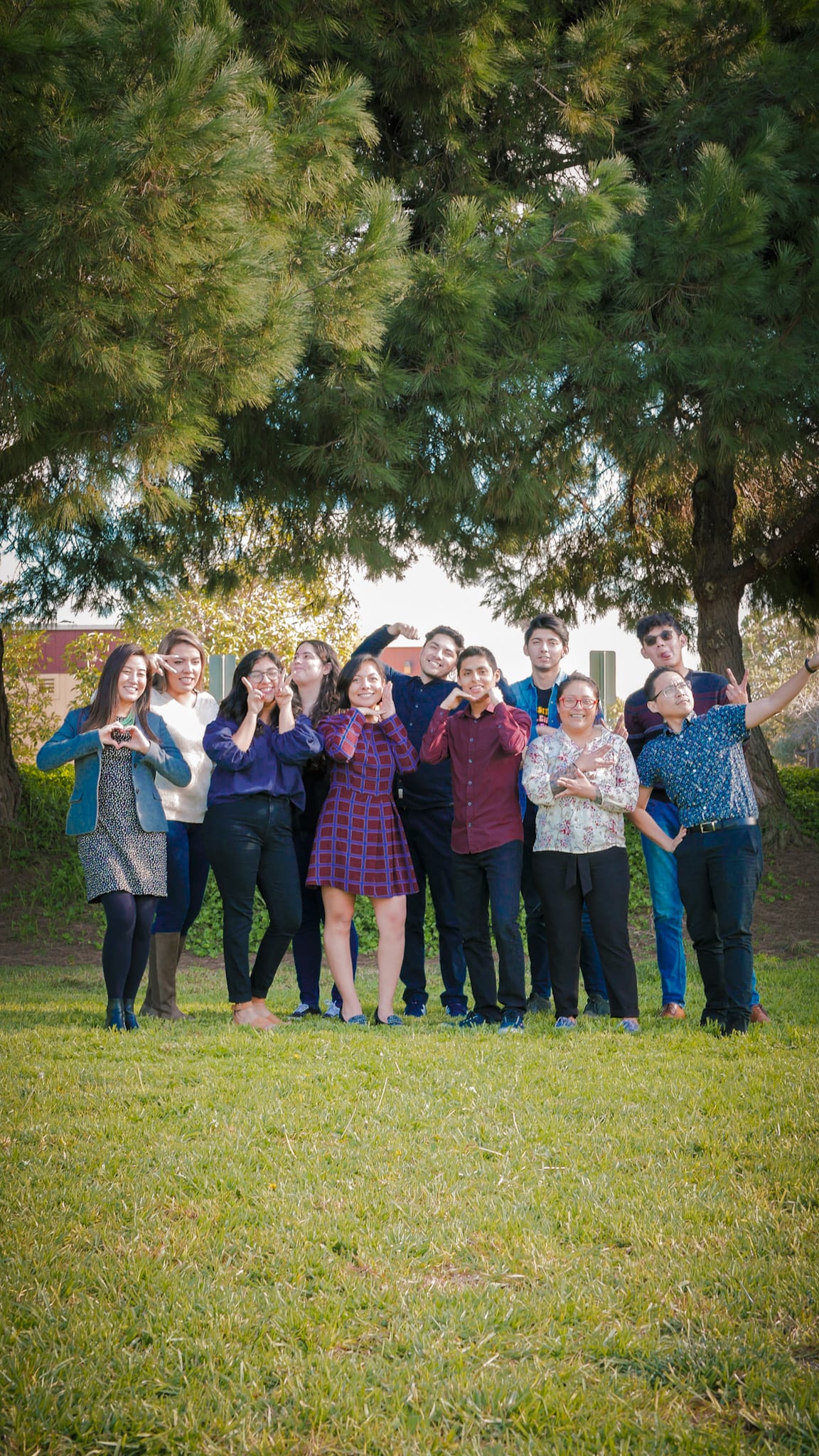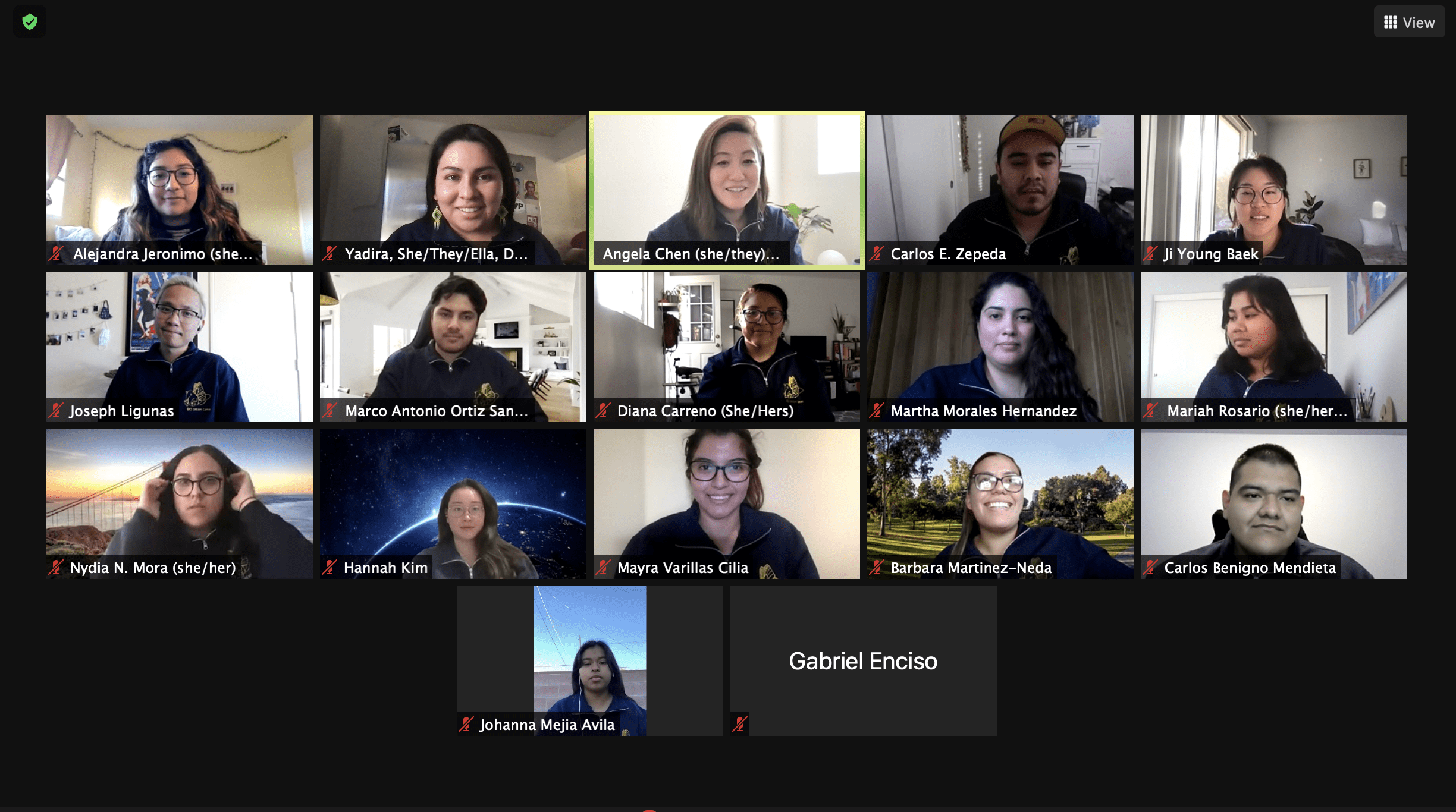 Carlos Zepeda (he/him/his)
5th year, Criminology, Law, and Society & Political Science Double Major
Bucket List: Skydiving
Aura Navarro (she/her/hers)
4th Year, Criminology Law and Society Major
Bucket List: Learn how to play the guitar
Nydia N. Mora (she/her/ella)
3rd Year, Anthropology & Sociology Double Major
Bucket List: Visit Salem, Massachusetts, and move to Italy spontaneously
Deya Chic (she/her/hers)
4th Year, Education & Spanish Double Major
Bucket List: Class IV Whitewater Rafting
Diego Castro (he/they/them)
5th Year, Political Science & Chicano Latino Studies Double Major
Bucket List: Visit every country in Latin America.
High School & Community Outreach:
Alexandra Farias (she/her/hers)
3rd Year, Sociology Major
Bucket List: To go indoor skydiving and learn how to play the piano.
Yamileth Partida Reyes (she/her/hers)
2nd Year, Sociology & Criminology Double Major
Bucket List: Go scuba diving!
Kitana Carbajal Juarez (she/her/ella)
2nd Year, Art Major
Bucket List: Travel to Japan
Johanna Mejia (she/her/ella)
2nd Year, Psychology Major
Bucket List: Visit the stadium of my favorite soccer team in Spain and own a golden retriever.
Scholars in Residence: Graduate Mentors
Joseph Christian Labagnao Ligunas (he/they)
4th year, Comparative Literature Ph.D Student
Bucket List: Living my truth, so: Meet Mariah Carey and open a bed and breakfast inn.
Diana Carreño (she/her/hers/ella)
4th year, Pharmaceutical Sciences Ph.D. Candidate
Bucket List: Participate in a powerlifting competition
Barbara Martinez Neda (she/her/hers)
3rd year, Computer Science Ph.D. Student
Bucket List:

Visit every Disney Park! Go skiing for the first time!
Carlo Chunga Pizarro (he/him)
Urban Planning and Public Policy Department
Fun Fact: I am an ENFJ personality type and my hobby is listening to a new playlist everyday.
Gilberto Osuna-Leon (he/him/his)
Medical Student 
Fun fact: I have an identical twin brother who is now in the finance field and my hobbies include lifting, crunchyroll, video games, and hanging out with friends.
Angela Chuan-Ru Chen, Ph.D.
Director
angelacc@uci.edu | (949) 824-8225
Having been undocumented herself for 16 years, her experiences as an undocumented student throughout her undergraduate career has been an influence for her passion to support the undocumented student community. Angela most recently worked as the Director of the Undocumented Student Program at UCLA which served over 500 undocumented students, launched new programming, and built resources across campus departments to better serve undocumented students.
Additionally, Angela's institutional advocacy includes leading University of California system-wide efforts to increase awareness about policies that impact undocumented students and guiding universities across the nation to develop support programs for undocumented youth. Moreover, Angela also completed academic training in UCLA's Graduate School of Education.
Eloisa Amador-Romero
Assistant Director
eloisar@uci.edu | (909) 524-7949
Eloisa Amador-Romero joined the DREAM Center team as the Associated Director in December 2021. Her passion and commitment of undocumented and immigrant community has pushed her to pursue her career in higher education. Eloisa was a key individual in the establishment of the Titan Dream Center at Cal State Fullerton.
Eloisa is a first-generation college graduate, born and raised in Mexico City, and an undocumented immigrant for 18 years of her life. She earned a Master's in Higher Education and Student Affairs Administration from the University of Vermont; and a bachelor's degree in Science in Human Services and a bachelor's degree in Art in Ethnic Studies with an emphasis in Chicano/a Studies at California State University, Fullerton.
Eloisa is passionate for equitable education and access to higher education to all students and she is very excited to be serving the UCI Students and community.
Alejandra (Allie) Jeronimo
Program Coordinator
ajeroni1@uci.edu | (949) 824-6390
Alejandra (Allie) Jeronimo graduated from UCI in 2020 with a B.A. in Anthropology and a B.A. in Criminology. She is a proud Anteater and is excited to be back at UCI. During her time at UCI, she was involved with the undocumented student organization, Students Advocating For Immigrant Rights and Equity (SAFIRE), where she supported and advocated for fellow undocumented students through events and programs hosted by the organization. She has also been involved with the Student Alumni Association and served as Vice President of Membership during her last year at UCI. Alejandra is excited to continue supporting the undocumented student community and their families.
Laura Enriquez, Ph.D.
Faculty in Residence
Dr. Laura E. Enriquez holds a Ph.D. in Sociology from the University of California, Los Angeles. She earned her undergraduate degree in Sociology and History from Pomona College. During her time there she began working closely with undocumented immigrant students. Building on this work, she has researched, presented, and published on a range of issues related to the educational, economic, political, and social experiences of undocumented young adults who immigrated to the United States as children. She has published multiple articles on the complex role that immigration status plays in the everyday lives of undocumented young adults.  Currently she is working on a book manuscript tentatively titled, Of Love and Papers: Forming Families in the Shadows of Immigration Policy. 
She is faculty chair of UCI's Committee for Equity and Inclusion of Undocumented Students and currently serves as the faculty advisor for UCI's Marco A. Firebaugh House, an on-campus housing community for undocumented students and allies.